Diese Veranstaltung hat bereits stattgefunden.
Ausstellung & Art Brunch #69: Waves Come, Waves Go – Maryam Farhang
27. Februar 2022 @ 11:00

-

8. März 2022 @ 17:00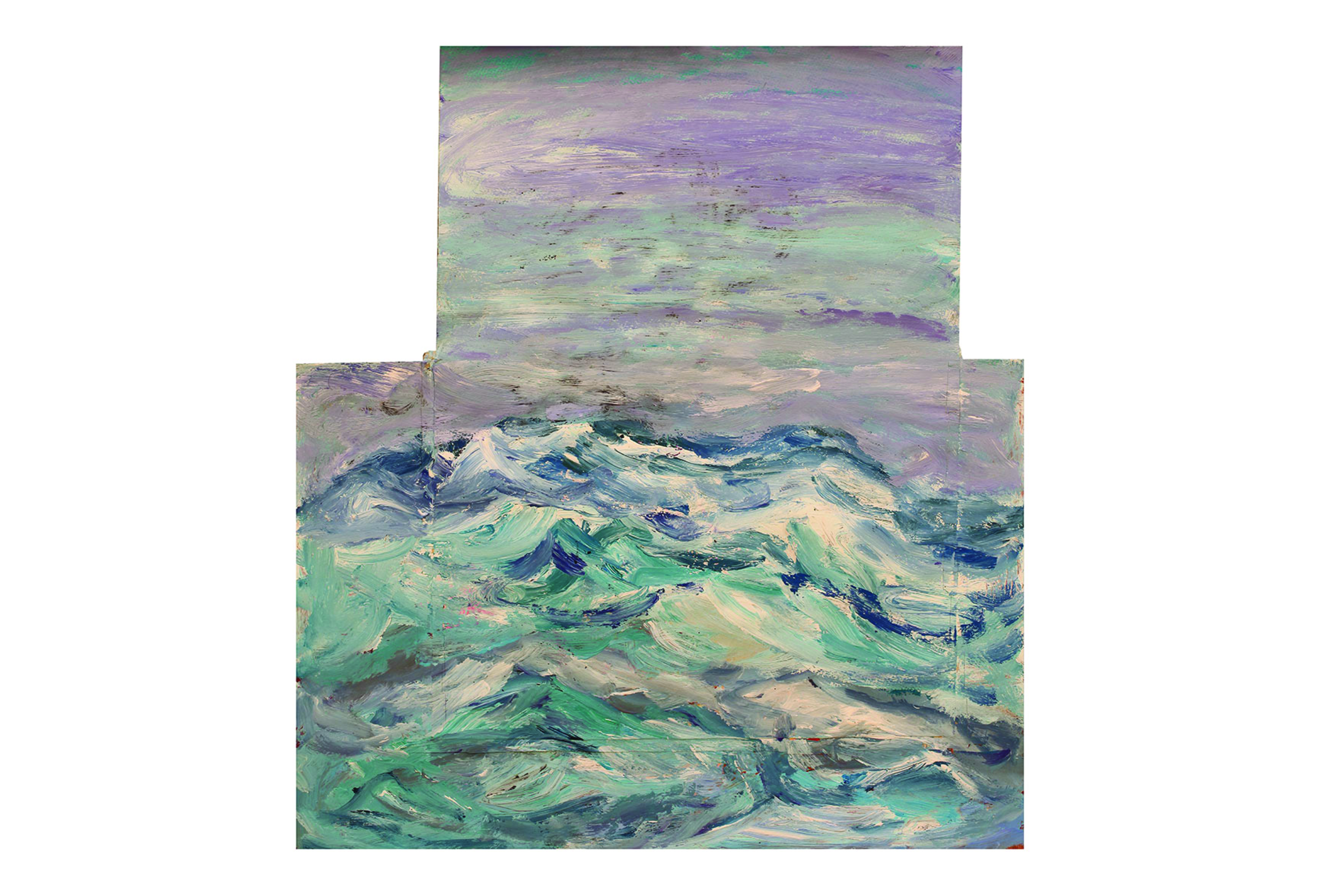 Eine poetische Annäherung an das Wasser der iranischen Künstlerin, begleitet von Hamza Hasan und der orientalischen Flöte Nai
Die ehemalige St.A.i.R.-Stipendiatin im Schaumbad und nunmehrige Artist in Residence der Kulturvermittlung Steiermark präsentiert Auszüge ihres multidisziplinären künstlerischen Schaffens.
Wasser bestimmt das aktuelle Projekt der iranischen Mehrspartenkünstlerin Maryam Farhang, das sowohl großformatige Ölgemälde, als auch Audio, Video, Performance und Poesie umfasst. So porträtiert Farhang scheinbar beiläufige Szenen aus dem Alltag, Haustiere und Pflanzen in hellen, großformatigen Bildflächen, die Ruhe und Sicherheit suggerieren. Erst auf den zweiten Blick offenbart sich die aufwühlende Kraft und die beängstigenden Gefahren, die im Wasser schlummern. Inspiration dafür findet die Künstlerin in der Auseinandersetzung mit ihrem Körper, ihrer ganz privaten Umgebung, zu Hause, im Atelier, verarbeitet dabei aber auch öffentliche Phänomene, wie die patriarchalen Strukturen ihrer Heimat oder das Schicksal der vielen verunglückten Flüchtlinge im Mittelmeer.
Zu jedem Bild hat Farhang jeweils ein Gedicht verfasst, welche im Rahmen des Art Brunch gemeinsam mit Keyvan Paydar mehrsprachig vortragen werden. Begleitet werden sie dabei von dem 1990 in Damaskus geborenen und seit etlichen Jahren in Graz lebenden Musiker Hamza Hasan, der auf einer Nai, einer orientalischen Bambusflöte spielt.
Kuratiert von Keyvan Paydar.
Die Ausstellung wird am 8. März mit einem Schwerpunktprogramm zum Weltfrauentag beendet.
Die Präsentation der Arbeiten ist bis inklusive 8.3.22 zu besuchen. Öffnungszeiten: 28.02. – 08.03.22, Mo–Fr 09:00–14:00, sowie nach Voranmeldung über schaumbad@mur.at oder t +43 (0) 664 355 78 30.
Für eine begrenzte Teilnehmer:innenzahl ist dies im Schaumbad vor Ort mit Anmeldung über schaumbad@mur.at möglich.
Teilnahme online 27.02. 11:00 – 13:00 Uhr
In Kooperation mit St.A.i.R., Styrian Artist in Residence und der Kulturvermittlung Steiermark.
____________________
A poetic approach to water by the Iranian artist, accompanied by Hamza Hasan and the oriental flute Nai.
The former St.A.i.R. fellow at Schaumbad Graz and now artist in residence at Kulturvermittlung Steiermark presents excerpts of her multidisciplinary artistic work. Water determines the current project of the multi-disciplinary artist Maryam Farhang, which includes large-scale oil paintings as well as audio, video, performance and poetry. Thus, Farhang portraits Only a second glance reveals the stirring power and frightening dangers that lie dormant in the water. The artist finds inspiration for this in the examination of her body, her very private surroundings, at home and in the studio, but also processes public phenomena, such as the patriarchal structures of her homeland or the fate of the many refugees who have died in the Mediterranean.
Farhang has written a poem for each painting, which will be recited as a multilingual reading performance at the Art Brunch together with Keyvan Paydar. They will be also accompanied by the musician Hamza Hasan, who was born in Damascus in 1990 and has lived in Graz for several years, who will play a nai, an oriental bamboo flute.
A video by Michael Pilz, and a sound installation by Reza Kellner
Curated by Keyvan Paydar
In cooperation with St.A.i.R., Styrian Artist in Residence and Kulturvermittlung Steiermark.
The exhibition will close on March 8 with a focus program on International Women's Day.
The presentation of the works can be visited up to and including 8.3.22. Opening hours: 28.02. – 08.03.22, Mon-Fri 09:00-14:00, and by appointment via schaumbad@mur.at or t +43 (0) 664 355 78 30.
For a limited number of participants, this is possible in the foam bath on site with registration via schaumbad@mur.at.
Participation online 27.02. 11:00 – 13:00
In cooperation with St.A.i.R., Styrian Artist in Residence and Kulturvermittlung Steiermark.