Diese Veranstaltung hat bereits stattgefunden.
Calder plays Theremin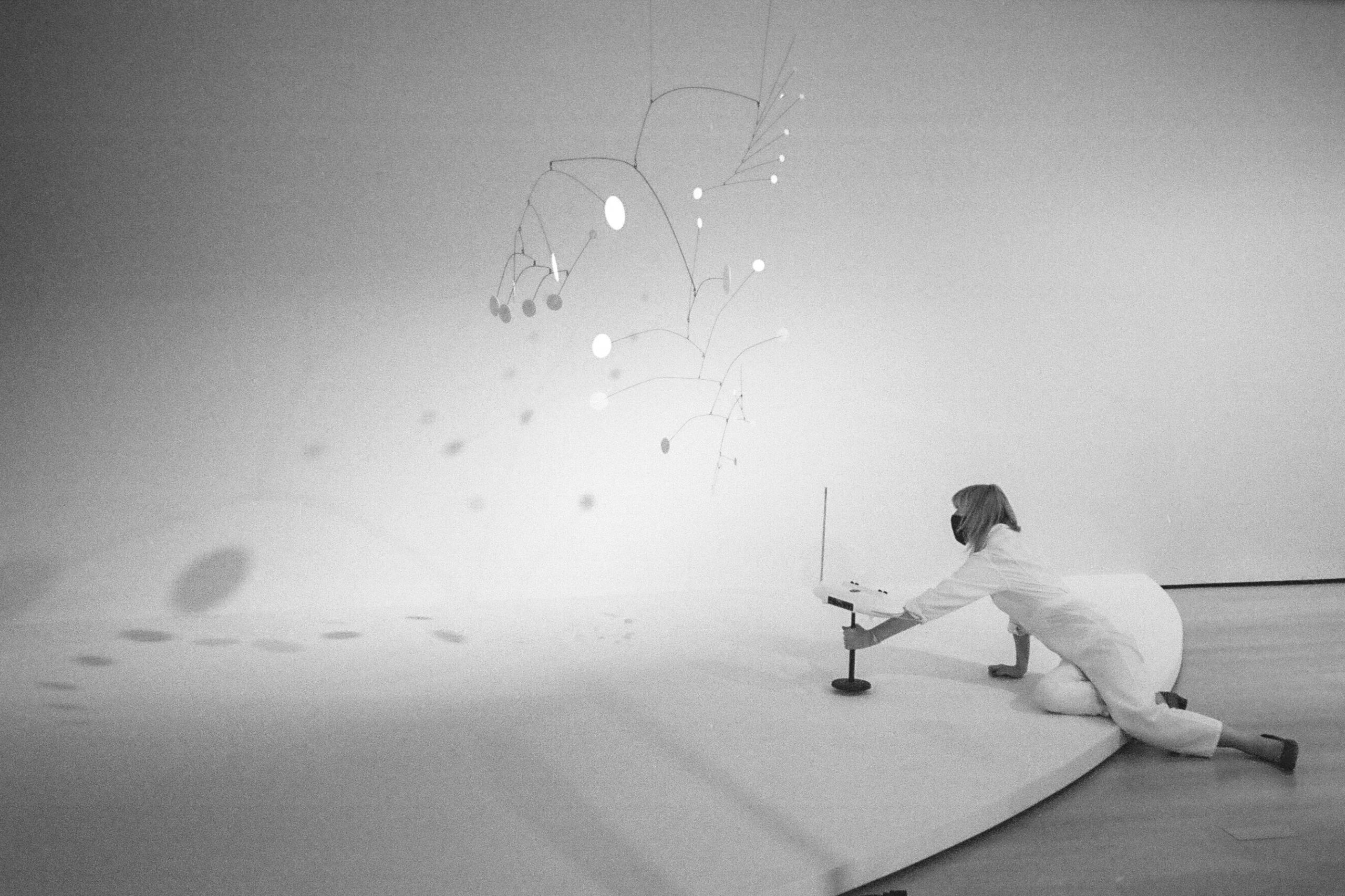 Eine audiovisuelle Installation, basierend auf Klangexperimenten mit Skulpturen von Alexander Calder
+++
Alexander Calders Idee seiner Skulpturen war die freie Bewegung im Raum und die Interaktion mit anderen Objekten, um Bewegung im Raum darzustellen. Auf Empfehlung der Alexander Calder Foundation entstand eine Auftragsarbeit des MoMA, Museum of Modern Art NY, die genau jene Bewegungen mit Hilfe von Theremins in Klang übersetzen sollte. Für diese Projektidee ermöglichte das Museum der österreichischen Künstlerin und aktuellen Staatsstipendiatin für Komposition Dorit Chrysler Zugang zu seinem Skulpturengarten und der sogenannten Galerie 1, um dort Klangexperimente mit drei Theremins durchzuführen.
Chrysler identifizierte schlussendlich zwei von Calders Skulpturen, "Snow Flurry, I" (1948) und "Man-Eater with Pennants" (1945) aus der aktuellen MoMA-Ausstellung "Alexander Calder: Modern From The Start". Mit spezieller Erlaubnis des Conservation Departments wurden diese in Bewegung gesetzt, sodass deren Metallelemente mit den exakt platzierten Theremins interagierten. Die Bewegungen in Klang und Raum, Motion to Sound, wurden gefilmt und aufgenommen. Aus diesen dokumentierten Elementen entstand nun eine Videoarbeit, ein Vinyl-Tonträger mit Auszügen der Audioaufnahmen sowie jene Installation, die nun in Graz zu sehen ist.
Die Soundexperimente fanden im September 2021 statt, wurden Anfang 2022 im MoMA Online Magazin und werden nun von Februar bis März im Schaumbad präsentiert.
Programm zur Eröffnung 10.02.23 ab 19:00 Uhr
Konzert mit Dorit Chrysler & special Guests
Visuals: JesterN
Ausstellungsdauer: 11.02.–19.03.23
Öffnungszeiten: Mi.–Sa., 14:00–18:00 Uhr
oder auf Anfrage unter +43 (0) 664 3557830 oder schaumbad@mur.at
Mehrsprachige Führungen (FR/BKS/EN/UKR) durch die Ausstellung: jeweils Do. 17:00 Uhr & Sa. 15:00 Uhr
Art Brunch #78: Women* play everything: So. 12.02.23, 11:00 Uhr
Gespräche mit Dorit Chrysler, Judith Schwentner und Majda Krivograd (grrrls.at) über Möglichkeiten selbst bestimmten künstlerischen Schaffens von Frauen*
https://schaumbad.mur.at/index.php/event/art-brunch-78-women-play-everything/
Workshops mit Dorit Chrysler und Charly Hobbs:
Kids play Theremin: Sa. 11.02.23, 13:00 Uhr
https://schaumbad.mur.at/index.php/event/kids-know-how-to-play-the-theremin-6/
People play Theremin: Sa. 11.02.23, 17:00 Uhr
https://schaumbad.mur.at/index.php/event/people-know-how-to-play-the-theremin/
People build Theremins (Workshop): So. 12.02.23, 14:00 Uhr
https://schaumbad.mur.at/index.php/event/people-know-how-to-build-a-theremin/
Info und Anmeldung unter schaumbad@mur.at.
Foto: © JAKE MARSIGLIA with kind permission of The Calder Foundation