Theremin mobile by Dorit Chrysler
10. Februar 2023

-

5. März 2023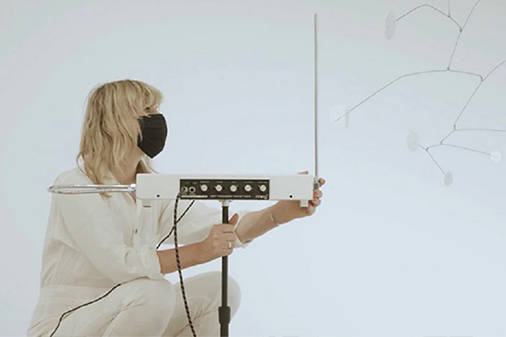 Drawing Music in Space – Österreich Premiere im Schaumbad Graz
Sonic Experimentations mit Alexander Calder's Sculptures Set in Motion – im Auftrag des MOMA, Museum of Modern Art NY.
Alexander Calders Idee seiner Skulpturen war die freie Bewegung im Raum und die Interaktion mit anderen Objekten, um Bewegung im Raum darzustellen. Auf Empfehlung der Alexander Calder Foundation enstand eine Auftragsarbeit des MoMA, Museum of Modern Art NY. Für diese Projektidee ermöglichte das Museum Zugang zu deren Skulpturengarten und der Galerie 1, um Klangexperimente mit drei Theremins durchzuführen. Dazu wurden diese in hörbarem Abstand zu zwei ausgewählten Skulpturen der aktuellen MoMA-Ausstellung "Alexander Calder: Modern From The Start" platziert. Mit spezieller Erlaubnis des Conservation Departments des MoMA wurde diese dafür in Bewegung gesetzt und deren Metallelemente interagierten mit den exakt platzierten Theremins. So wurde die räumliche Bewegung der Calder Mobiles in Ton umgesetzt. Die daraus resultierenden Bewegungen in Klang und Raum, Motion to Sound, wurden gefilmt und aufgenommen und aus diesen dokumentierten Elementen entstand eine Videoarbeit, sowie ein Vinyl-Tonträger mit Auszügen der Audioaufnahmen.
Die Soundexperimente fanden im September 2021 statt, wurden Anfang 2022 im MoMA Online Magazin und werden von Jänner bis März im Schaumbad präsentiert.
Foto: © Michael Tybursky with kind permission of The Calder Foundation